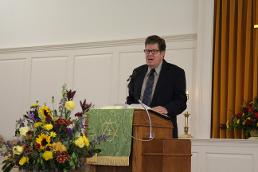 The strong bond that developed between Pastor Philip Siebbeles of Harrells and members of Rockfish Presbyterian Church has led to him being named the temporary part-time minister for the church.
"This has come as a surprise to us," said Siebbeles, who retired in 2007. "We didn't expect to be back in the saddle. We are excited and honored."
His wife, Ellen, will be the pianist at the church.
Rockfish Presbyterian Church is located at 6270 NC Hwy 41, Wallace.
Church member Linda Wells said they are pleased to have the Siebbeleses.
He will preach every Sunday except for the first one of each month. He can perform sacraments, weddings, funerals, and visit people in the community.
"He will be leading and guiding us," she said. "If you want to hear a good sermon, come on Sunday."
Rockfish Presbyterian Church has been without a full-time minister for almost three years.
Eighteen months ago, he started preaching at the church about twice a month.
Siebbeles said it was a blessing to be at the church.
"We just hope and pray it will grow with us," he said.
Wells said they have talked about starting a Bible Study.
Siebbeles, ordained minister in the NE District of The Wesleyan Church, has served pastorates in Wilson, Cary, and Rose Hill.
"I have preached most of my adult life," he said.
In 2007, he moved from the pulpit to the classroom and teaches religion at James Sprunt Community College.
In addition to teaching and preaching, he is working on a writing project - an introduction to Bible Study using the Gospel of Mark.
"It will help people to study the Bible on their own," he said.
He has been working on the book for a year.
Born in Pretoria, South Africa, Siebbeles met and married his wife there.
Ellen Siebbeles was born in Beckley, West Virginia and her parents were missionaries with The Wesleyan Church.
The couple came to the United States in 1980 for Siebbeles to attend Ashbury Seminary in Kentucky.
Their plan was to return to South Africa to teach a Bible College near Johannesburg.
"We ended up staying," he said.
The couple has lived in North Carolina since 1986.
Ellen Siebbeles is a psychiatric nurse and works at the Yahweh Center in Castle Hayne. They have a son, Christopher, who is a senior at the University of North Carolina at Wilmington.
Rockfish Presbyterian Church is 259 years old. It has one of the oldest state's Presbyterian congregations.
"There is a lot of heritage and history here," Wells said.
In its long history, the church has been burned twice, saved, and remodeled.
Sunday School is at 10am and morning worship at 11am.
Church members participate in various projects for the community such as the United Methodist Church in Rose Hill's recovery program, mission Sarah's Refuge, the Duplin County Outreach Ministries, and Barium Springs Home for Children.
A special service the Church members are planning is a Veterans Day service that will be held at 11am on Sunday, November 8th.
"We need to show our veterans that we appreciate them for what they have done," Wells said.
(This article was first published in the
Duplin Times
on August 20, 2015)